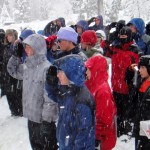 Late January
Cisco Grove Campground
A fun winter challenge involving snow camping and competition: sled race, jumbo ski, showshoe relay, spear throw, fire building, snowball toss, "tobacco" spit, ice rescue, moon ball, hasty shelter building and snow snake. Troops are encouraged to bring patrol sleds, built by Scouts, for the sled race.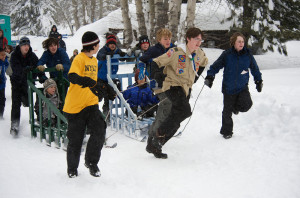 Map & Directions

View Driving directions to Cisco Grove Campground in a larger map
Traffic cameras
Whitmore Grade and Kingvale cameras are closest to the campground
Snow

Partly cloudy in the morning then becoming cloudy with periods of snow later in the day. High around 30F. Winds SW at 10 to 20 mph. Chance of snow 70%. Snow accumulations less than one inch.

Clear

Except for a few afternoon clouds, mainly sunny. High 39F. Winds WSW at 10 to 15 mph.

Snow

Periods of snow. High 28F. Winds WSW at 5 to 10 mph. Chance of snow 100%. Snow accumulating 3 to 5 inches.